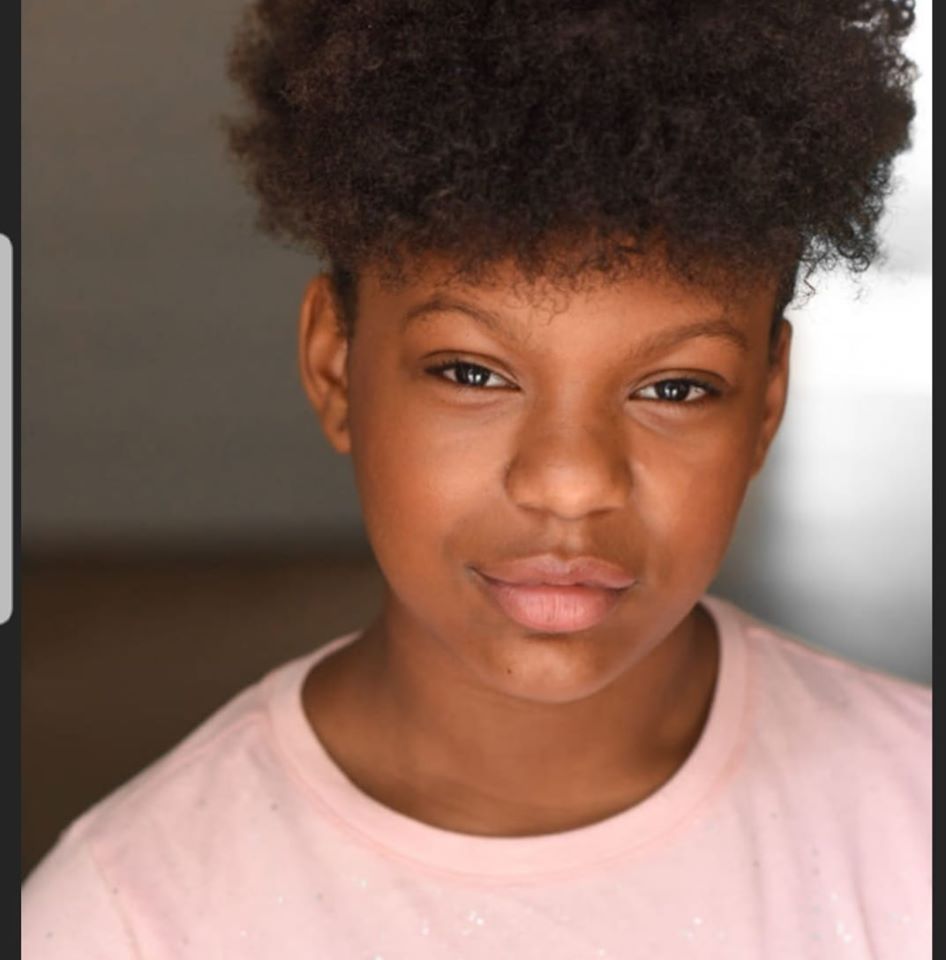 Maya Hooks is a child actress, known for Apartment 101 (2017), Growing Pains (2019), Demons (2018) and A Society of Signatures (2020). A naturally bright, funny, and enthusiastic child actor, screenwriter, producer and up and coming filmmaker who has the ability to serious roles, and loves fake accents.
GO BANG! Magazine: How long have you been acting and how did you get started?
Maya Hooks: I have been acting since I was nine years old. I started taking classes at The Beverly Arts Center and the Salvation Army Kroc Center where I started participating in Community theater. Two years after participating in community theater projects, I was cast in my first professional theater project, "The Wedding Band", and then I started taking "On Camera" classes at Second City Chicago and Chicago Actors Studio to learn how to act on camera.
GO BANG! Magazine: How did you get involved with "A Sisterhood of Signatures?"
Maya Hooks: I was referred to Director Seven Okema Gunn's project by zctor Harold Dennis. I auditioned and ended up being cast as the lead role character, Tiyah.
GO BANG! Magazine: What about "A Sisterhood of Signatures" attracted you to want to be a part of it?
Maya Hooks: A Sisterhood of the Signatures was a tween project that centered around a group of friends who started a cursive letter writing club, and the fact that two of my friends, Jada Hamilton and Hailey Alexander, were cast made it very exciting!
GO BANG! Magazine: You are the star and main character of the film. How would you describe your character in the film?
Maya Hooks: Tiyah is a leader, very bossy, inquisitive, and very passionate about her family traditions and history. She was determined to get her friends interested in starting a letter writing club and they did just that!
GO BANG! Magazine: How important is it to you, to preserve the art of cursive writing?
Maya Hooks: Cursive writing is very important to me now. Prior to being cast in the film, I had just transferred to a catholic school, where they made us learn cursive. Prior to sixth grade, I had never written anything in cursive, because my school didn't teach cursive, but I learned just in time for the casting of A Sisterhood of the Signatures! I didn't realize that our ancestors, their identities, were tied to their signature and letter writing. At one point in time writing was a main source of communication, especially before a telephone or computer. Signatures are part of our identity. No one has the same signature. I found letters from my great, great, grandparents after my great grandmother died last year, and I could actually read them! This was really cool! It's so important to preserve cursive writing! I believe it's really part of our history and who we are!
GO BANG! Magazine: I understand that you want to do more than act in the film industry. What type of behind-the-scene work are you interested in?
Maya Hooks: Most definitely! I am a new screenwriter and producer. I have a new project I wrote and produced called Black Girls Versus Ambiguous, which will be completed by mid April/May, so stayed tuned! I can't wait to share my film with the world! I'm also in the process of writing a new screenplay for my first feature film. I'm studying screenwriting and filmmaking at Beverly Arts Center and Chicago Academy of Arts. I'm also continuing to work on my craft as an actor at Actors Studio Chicago. I am learning how to be a director and want to write, direct, and produce projects that will make a statement and tell great stories.
GO BANG! Magazine: So currently, you're an actor, screen writer and producer. Of those talents, which one do you love the best, and why?
Maya Hooks: I love writing sooo much! I always thought I would never love anything more than acting, but when I write I feel "Powerful!" I get a feeling that I can get in a space and just be free to create!
GO BANG! Magazine: In conclusion, the COVID-19 pandemic has caught the world off guard. How are you dealing with it?
Maya Hooks: Oh my gosh! This Covid-19 situation has me homeschooling, but I'm still in production meetings for my new project, working hard on my new script, and I'm taking my acting classes virtually because my acting school is closed. I hope this will end soon, but I'm keeping busy.
You can follow Maya on IG @hooks.maya & Facebook @Maya Hooks
Facebook @Black Girls Versus Ambiguous, for updates, trailer, and screening dates.
Follow her career on Actors Access: https://resumes.actorsaccess.com/Mayahooks?fbclid=IwAR39PLGc2Lb1iGD9fUpHx2RpUmdPPCZ_Dhyr1KK9eM4RLv1iBxvp-uk6j1E
Pierre A. Evans is a freelance writer of Entertainment, Music, Art, Culture, Fashion and Current Events, and previously for SoulTrain.com, NDigo.com, ChicagoDefender.com, EmpireRadioMagazine.com, and UrbanMuseMag.com, an author, singer/songwriter, actor, model, poet, dancer, and DJ. He is also the Owner of Pinnacle Entertainment Productions and the Owner/Publisher of GO BANG! Magazine. Follow him on Facebook @Pierre Andre Evans, Twitter @Playerre, and on Instagram @Pierre_Andre_Evans