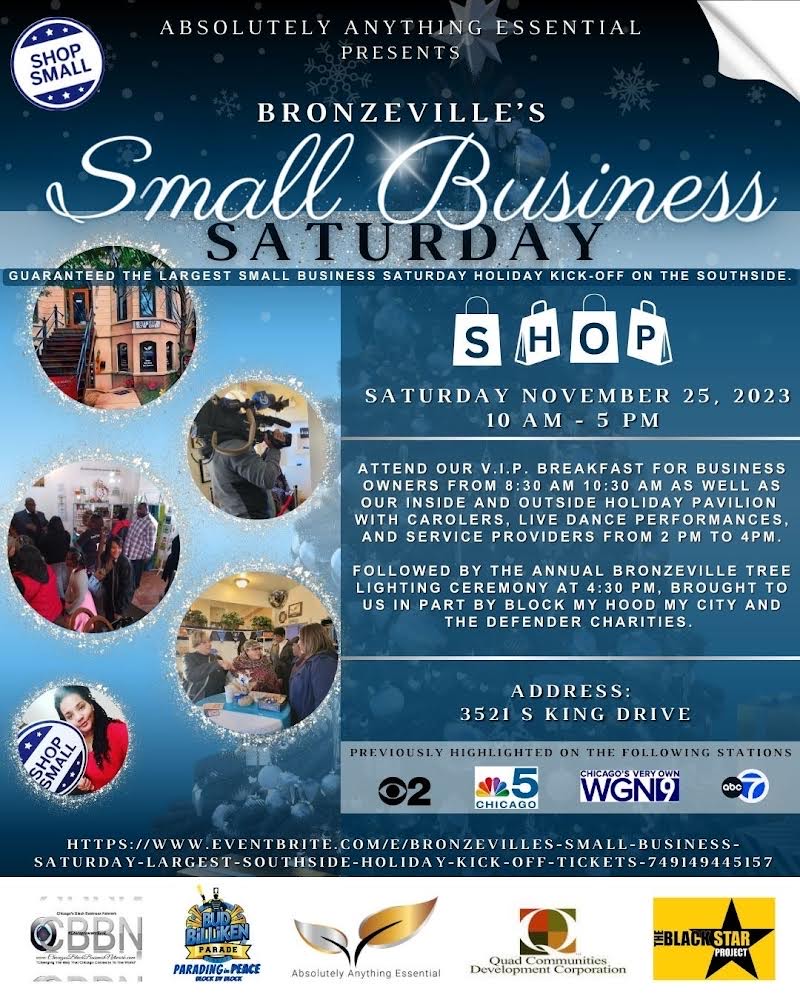 Support | Shop | Explore
Neighborhood Champions Leading the Way!

RSVP REQUIRED:https://www.eventbrite.com/e/bronzevilles-small-business-saturday-largest-southside-holiday-kick-off-tickets-749149445157?

The Absolutely Anything Essential gift shop along with over 20 vendors, service providers and small business owners invite you to support, shop and explore in Bronzeville. This 8th year Neighborhood Champion celebration will be held on Saturday November 25, 2023 from 10 am until 5 pm. This event is great for the entire family, diverse shoppers, those who love being creative and small business supporters seeking an all in one Southside Holiday kick-off experience and showcase. This year's theme "neighborhood champions leading the way", echoes the conversation of "If you shop big box, you can shop with us small business owners", thus motivating residents to support businesses a short stroll or bike ride from their home and workplace.

Deemed the largest Southside Holiday themed media noted community building event, kicks off with the invite-only CBBN sponsored V.I.P. catered breakfast prepared from 8:30 am to 10 am held inside of the historic previously noted as the Supreme Life Building, followed by a full day of shopping and family crafting excursions from 1 pm to 4 pm sponsored by Quad Communities Development Corporation. Additional Holiday fun follows, mid-afternoon with free cocoa, Holiday carolers, live dance performances, a kids zone hosted by The Black Star Project and concludes at 5 pm. with the annual 35th and King Dr., business corridor Christmas Tree Lighting sponsored by My Block My Hood My City, the Bud Billiken Parade and the Defender Charities.

Join us for a day brimming with empowerment, inspiration, and festive cheer! Let's come together to appreciate the significance of preserving and strengthening our community through the support of local businesses, the enjoyment of unique experiences, and the vibrant spirit of Bronzeville.

What is the Absolutely Anything Essential Gift Shop? The Absolutely Anything Essential Gift Shop of Chicago, is a certified MWBE incubator retail space, and local tourist destination, offering a platform for small business owners, entrepreneurs and hobbyists alike to showcase as well as sell their works, services, classes, experiences and products at its flagship store, located at 3521 S. King Drive, Chicago, IL. 60653 which is conveniently located just a short drive south of the McCormick Place and a 5 minute drive east of the Chicago White Sox Stadium on King Drive.

What is Shop Small Business Saturday? American Express publicized the initiative Small Business Saturday 13 years ago as an American shopping holiday held on the Saturday after US Thanksgiving during one of the busiest shopping periods of the year. Saturday, November 25, 2023 is Small Business Saturday® – a day to celebrate and support small businesses in their communities.

WHAT: 2023 Small Business Saturday: Support~Shop~Explore – Bronzeville!

WHEN: Saturday November 25, 2023 from 10 a.m. until 5 p.m. *8:30 am breakfast

WHERE: 3521 through 3501 S. King Drive, Chicago, IL 60653. Free street parking

COST: Free to tour & shop *Breakfast additional cost *Wheelchair accessible.

RSVP REQUIRED: https://www.eventbrite.com/e/bronzevilles-small-business-saturday-largest-southside-holiday-kick-off-tickets-749149445157?