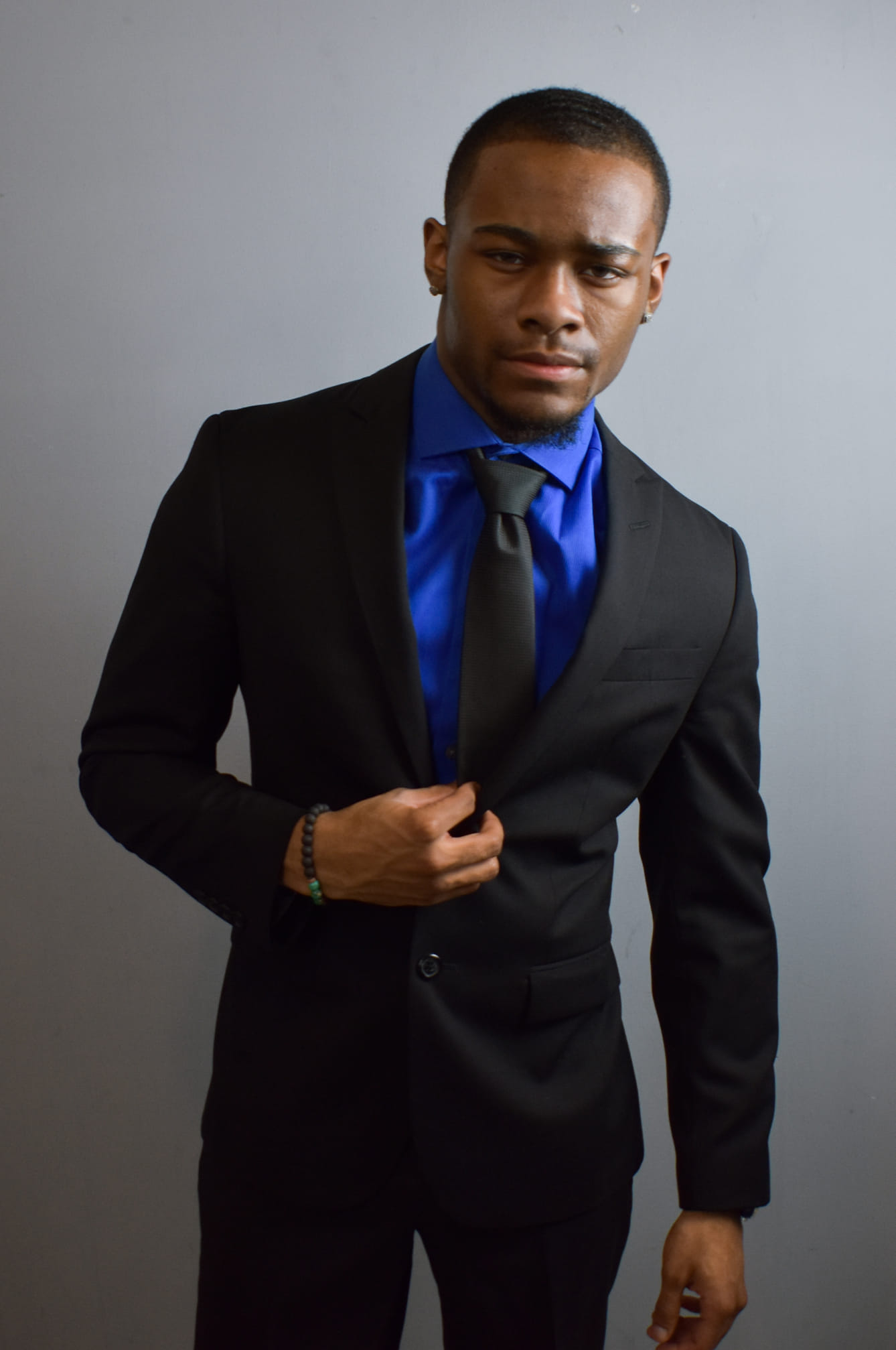 Photo Credit: Anthony O. Studios
I got started in Entertainment through modeling, at the young age of 11. Slowly though, I took a liking to working behind the scene, rather than being in front of the camera. So, a few years later I decided to study photography to further my knowledge. I was also interested in managing models, which would give me the opportunity to help them reach their dreams, as I did mine.

As of today, my work has been displayed in various formats, from websites to billboards for companies. In the future, I plan on moving on to larger projects and productions for larger businesses. I also plan to book my models in more commercials and photoshoots as well.

Anthony says, "My goal is to give back to the community and help them as much as I can." He continues, saying, "Look out for me, Anthony Oliver and Lights Out Entertainment! "

GO BANG! Magazine: Where were you born and raised?

Anthony Oliver: I was born and raised on the south side of Chicago.

GO BANG! Magazine: How and when did you get an interest in the Entertainment field?

Anthony Oliver: I grew an interest in the photography field from when I use to model at the age of 11. I used to get frustrated waiting for photographers to take my photos, so I bought a camera and started to learn photography myself. My mom helped me out a lot and so did my dad. They both supported me big time and I found a love for being behind the camera rather than being in front of the camera.

GO BANG! Magazine: What was is about modeling that you liked and why did you stop?

Anthony Oliver: What I loved about modeling was the confidence it gave me. Being on the runway and being in front of the camera gives you a confident feeling like no other.

I didn't fully stop modeling. I just don't do it as much. I feel like I've had my time in the spot light of modeling, now I want to capture other people's moments and give them the spotlight. However, I do hop into frame every once in a while.

GO BANG! Magazine: You also manage models. What exactly do you do for the models and how do you recruit your models?

Anthony Oliver: Yes, I do manage models and what I do is teach them about the industry and help to build them a portfolio. My models don't give money up front. I always tell my models "I don't get paid until you get paid!" That pushes me to do my job. What that means is that when my models are booked, I add on a percentage to their price for me and the rest goes to the model. I do not touch it, it goes directly to them. I don't want to take my models money that they worked hard for. I'm here to help others build and make money together, rather than digging in their pockets before I've done any work.

I recruit models by having modeling calls each year when my models contracts are outdated.

GO BANG! Magazine: What exactly do you love about working behind the camera, as a photographer?

Anthony Oliver: The one thing I absolutely love about being behind the camera as a photographer is the joy on people's faces when they see the photo. The fact that I can make people that happy and create beautiful memories to remember forever makes me feel proud and I feel like I've done my job correctly as a photographer.

GO BANG! Magazine: What type of photography do you like; fashion, architectural, nature, animals, etc., and why?

Anthony Oliver: When I first started, I really loved boudoir photography. The reason being, my clients were women who lost weight or wanted to do it as a gift for their husbands. It was various heart-felt moments when my clients didn't feel too confident. But then out of nowhere, there was this confidence boost and they always loved every photo. I just liked the fact that I could make someone feel comfortable in their own skin and not care what other people thought. But as of today, I would say I like doing product photography because products aren't late to their shoots and they sit still.

GO BANG! Magazine: You're also an entrepreneur. Can you tell our readers about Lights Out Entertainment and what your company does?

Anthony Oliver: Recently I've rebranded to Anthony O. Studios for photography, videography, and model management. I do currently still own Lights Out, however that is the name of my fragrance line. Anthony O. Studios covers every photography need. I also offer video packages and models that my clients can choose from for any projects they plan to do.

GO BANG! Magazine: You've been quoted as saying, "My goal is to give back to the community and help them as much as I can." What exactly do you want to do for the community, is there any community in particular, and have you started that mission yet?

Anthony Oliver: When I say give back to my community, I mean holding photography classes for kids that find interest in it at a young age and helping those who aren't as fortunate as I am. I have put this into effect already. I started in the beginning of the month of August 2021. My business put together a "feed the homeless" movement and this December we will do a coat drive as well as toy donation to orphans.

GO BANG! Magazine: In the future, I know that you want to grow bigger and have larger projects. Is there any company or person that would be your "dream project" to do a shoot for?

Anthony Oliver: I would love to do a production for the rock (Dwayne Jonson) and his products Teremana (Tequila) or ZOA (Energy drink) because they are both products that I have tried and personally like.

GO BANG! Magazine: 2021 has been quite a year, especially after going through 2020. We've experience Covid, #BlackLivesMatter, a new president and a NEW variety of the Covid virus, the Delta variant. How has the past two years been for you and are there any events in particular that stood out the most over that time period?

Anthony Oliver: Honestly, I would say COVID has been one of the best things that have happened to me from a business stand point. Reason being, the lockdown gave people a reason to be on their phones 24/7. I took that as an opportunity to promote myself and get the word out through social media. But, from a personal stand point it was very hard because even though I knew it would lift up and I could go outside and explore new places again at some point, I just didn't know when and that's what bothered me, just not knowing when.

You can follow Anthony on IG @anthonyostudios




Pierre A. Evans is a freelance writer of Entertainment, Music, Art, Culture, Fashion and Current Events, and previously for SoulTrain.com, NDigo.com, ChicagoDefender.com, EmpireRadioMagazine.com, and UrbanMuseMag.com, an author, singer/songwriter, actor, model, poet, dancer, and DJ. He is also the Owner of Pinnacle Entertainment Productions and the Owner/Publisher of GO BANG! Magazine. Follow him on Facebook @Pierre Andre Evans, Twitter @Playerre, and on Instagram @Pierre_Andre_Evans.