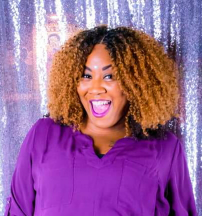 Netra 'MsAlready' Babin is a stand-up comedian, writer, host an actress from Houston, TX. Since debuting her comedy career in 2009 at the legendary Laff Stop in Houston, TX she became a crowd favorite, and of management and staff, calling her comedy: "raw, hard-hitting, quick-witted, and hilariously real."
Netra got her name 'MsAlready' once internet radio caught on, she was the host of her late night Laff Talk radio show "I'm Jus Saying" on Old Grumpy Radio. The term "already", is a slang term originated in Houston when you concur with anything. Her fans certainly can agree she is "ALREADY".
Netra is the writer and MsAlready is the entertainer, and together they captivate audiences on the web and beyond.
Growing up in a family full of practical jokers, fun and laughter has prepared Netra MsAlready for the Comedy stage. Netra MsAlready has rocked the house at comedy venues across the US; including the Houston Improv, Chicago Laugh Factory, the J Spot (Houston and Los Angeles), as well as colleges and universities. Her continual growth on the comedy scene has allowed her to work with some of comedy's legendary names; John Witherspoon, Eddie Griffin, and Luenell just to name a few.

Comedy is a sense of humor with no boundaries, and being comfortable with finding the funny in all areas of life. Netra 'MsAlready' Babin stretches to heights and beyond to entertain her audiences. Be on the lookout for Netra 'MsAlready' Babin to make you laugh till you sweat. So stay ready so you don't have to get ready. #Already #FindtheFunny.

GO BANG! Magazine: When did you know that you were funny?

Netra 'MsAlready' Babin: I guess I could say ever since I was a kid. I was always joking and playing around. I even got in trouble. When I would get in trouble, I would say or do something silly to try and change the mood. My mom would get mad as hell and yell, "Ain't a damn thing funny." LOL I come from a funny family and what's even worse, a family that likes to laugh. Once you get them started, they crying, spitting out drinks, damn near about to pee on themselves. They just always laughed, so I gave them something to laugh at.

GO BANG! Magazine: How did you get started in comedy?

Netra 'MsAlready' Babin: I started in 2009 after being laid off from my job. After being let go, I told myself that I didn't want to punch a clock anymore. I wanted to do something that was going to allow me to not have to talk in my white woman voice for nine hours a day. Lawd that is annoying. I wanted to talk in my regular voice. I tried "open mic" just to see how I would do. I tried it and fell in instant love, and it has been 11 years later.

GO BANG! Magazine: How would you describe your style of humor?

Netra 'MsAlready' Babin: I consider myself to be an observational story teller. I tell life relating stories that are funny. Things you can't believe you are laughing at!!!

GO BANG! Magazine: What do you think sets you apart from other comedians?

Netra 'MsAlready' Babin: My name…lol…that is it. Being Netra. There are so many talented comedians and we are servants of funny.

GO BANG! Magazine: What advice would you give to an aspiring comic trying to break into comedy?

Netra 'MsAlready' Babin: Stage time develops your journey into being a comedian. I meet people and they have notebooks of material and I tell them that shows they are a writer, you aren't in the comedian phase until you get on stage.

GO BANG! Magazine: You've had an opportunity to work with some well-known comedians including the late John Witherspoon. What did you learn, if anything, from working with those legendary people?

Netra 'MsAlready' Babin: I learned by watching John Witherspoon that if you create classic moments, people remember that forever. His opening was the audience reciting his lines from movies he was in. The audience loves him and seeing timeless moments.

GO BANG! Magazine: What are you currently working on at this time, that you can tell our readers to be on the lookout for?

Netra 'MsAlready' Babin: To be honest, I ain't working on shit! LOL… This pandemic has me taking a break and regrouping right now. Just follow my IG @netracomedy and stay tuned…But for right now, I am enjoying my time off and going crazy at the same time. LOL

GO BANG! Magazine: You've done some acting as well. What are some of the gigs you've had and are you still pursuing that area of entertainment?

Netra 'MsAlready' Babin: I played a pilgrim in 2nd grade and didn't act again until I started comedy at 30. My acting background comes from being in plays. Majority of my roles I have been casted to play, I played a dramatic role. My favorite role and my only comedic role so far was a play written by Comedian Billy Dee Washington called, "Finding 1st Lady." It's about a Pastor going on a reality show to find love, and I play one of the contestants. This was a great experience and definitely made me want to pursue acting more.

GO BANG! Magazine: The COVID-19 pandemic has caught the world off guard. How are you personally dealing with it personally?

Netra 'MsAlready' Babin: Man listen, the bible says "Peace be still." I am doing just that. I am sitting back wearing my mask, washing my hands and using an absurd amount of hand sanitizer. I have hustled and worked so hard in my life and I feel like the Lord has blessed me to have a seat and regroup at this time. Something about being indoors all the time is certainly harder than it seems!!! I am here in Chicago, my fam is in Texas and I miss them just cause I can't access them. Cause Lord knows, I been social distancing from my family since 1996 when I graduated high school LOL. Now, I video chat for no reason. I'm just laying low, staying prayed up, and waiting for the ok to do old normal things again.

GO BANG! Magazine: Lastly, on May 25, 2020, George Floyd, a 46-year-old black man, was killed in Minneapolis, Minnesota, during an arrest for allegedly using a counterfeit bill. Derek Chauvin, a white police officer, knelt on Floyd's neck for almost nine minutes while Floyd was handcuffed and lying face down, begging for his life and repeatedly saying "I can't breathe." This incident has caused civil unrest and massive protests across the world. How do you feel about this unfortunate situation and call for police reform due to the horrible treatment of minorities by the police?

Netra 'MsAlready' Babin: Situation is totally unfortunate. No comment.


FOLLOW NETRA ON SOCIAL MEDIA:
http://Facebook.com/ComedianNetra
Twitter @iammsalready
IG:netracomedy





Pierre A. Evans is a freelance writer of Entertainment, Music, Art, Culture, Fashion and Current Events, and previously for SoulTrain.com, NDigo.com, ChicagoDefender.com, EmpireRadioMagazine.com, and UrbanMuseMag.com, an author, singer/songwriter, actor, model, poet, dancer, and DJ. He is also the owner of Pinnacle Entertainment Productions. Follow him on Facebook, Twitter, and on Instagram