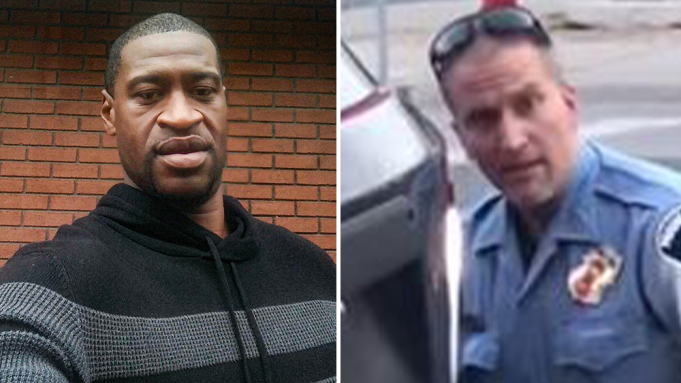 All across America, there were peaceful protest rallies going over the final weekend of May, 2020, as a response to the on-camera murder of George Floyd by Derek Chauvin, a Minnesota police officer. George Floyd was handcuffed, laying on his stomach, on the ground with the officer kneeling on his neck.

Several times throughout this ordeal, Floyd gasped and pleaded for his life saying "I can't breathe!" He even went so far as to cry out "Momma!" Even with ALL of this, Officer Chauvin never removed his knee from George's neck. Chauvin even had his hands in his pockets, as if he was relaxing while suffocating George with his knee. Throughout this horrific ordeal, three other police officers stood by, doing NOTHING!
George Floyd died, under the knee of the police officer. The officer still pressed his knee to the neck of Floyd for another two minutes, after he was dead. The image of the WHITE police officers, kneeling on the neck of the BLACK man, resulting in death, symbolized exactly what so many Black/Brown Americans feel. White police officers are killing people of color so casually and so boldly, that it was recorded on live tv! They have no fear of repercussions for their actions, because for years, they have gotten away with it!

So far, Officer Chauvin has been charged with murder and manslaughter. Many members of society, throughout the country, felt that the charge wasn't severe enough. Many feel that he should be charged with FIRST DEGREE MURDER, including myself!

In addition to that, there are THREE other police officers that have yet to be detained or charged! Tou Thao, videotaped watching as Chauvin continued to press on Floyd's neck with his knee, has left Minnesota, his lawyer confirmed Friday. J Alexander Kueng, one of the two first officers at the scene who helped pin Floyd down, is believed to be staying with family in Minneapolis. Thomas K. Lane has left and didn't tell anyone where he was going, a relative said Friday.

Because of this injustice…some people took to the streets! We have a NEW generation that's not as docile as past generations. They feel that marching isn't doing the job and it's time to fight back and kick ass!

Some people were fed up and felt that the only way to get ATTENTION to the fact that black & brown people are being killed by the police on a regular basis and are RARELY charged with the crime of MURDER, is to hit "The Man" where it hurts… in their pockets.
Downtown Chicago, and several other cities around the country, were devastated with looting, vandalism and fires!

I acknowledge that looters invading the peaceful protesters were opportunist that used this peaceful protest as an excuse to burn businesses and loot stores. I do not approve of ALL the looting going on, especially in the neighborhoods. They are hurting themselves, but they are fed up!

It's unfortunate that black/brown owned business, like Kimbark Beverage Shoppe in Hyde Park, Chicago, IL and others, are being affected as well. The riots were not well executed, but it got EVERYBODY'S attention. Didn't it?

For BLACK people…the pot's been boiling for CENTURIES and the tension has been building because of racial oppression, discrimination and WHITE PRIVILEGE! Well NOW, it has boiled over!

However, the rioting and looting needs to end! NOW that the attention has be received, there needs to be talk and dialog between the powers that be and community leaders. An acknowledgement, discussion and solution to the injustice, discrimination and targeting of black and brown people, by police officers, need to take place!

#EnoughIsEnough
EVERYONE WANTS TO BE HEARD!
PUT YOURSELF IN SOMEBODY ELSE'S SHOES AND SEE IT FROM THE POINT OF VIEW OF BLACK AND BROWN PEOPLE WHO HAVEN'T BEEN HEARD FOR CENTURIES, PEACEFULLY MARCHING FOR EQUALITY & JUSTICE! THERE COMES A TIME WHEN FRUSTRATION DRIVES YOU TO SNAP!
BLACK/BROWN AMERICA HAS SNAPPED!!!
PS. I'm not gonna even mention that ALL of this is taking place while we are going through a COVID-19 pandemic. NO social distancing and very few, if any one, had on masks! Are we headed for anothert SPIKE in Covid-19 cases in TWO WEEKS?
I' don't even wanna go there!
Be safe, be strong, be smart! 👊
Pierre Andre' Evans
A Black Man!