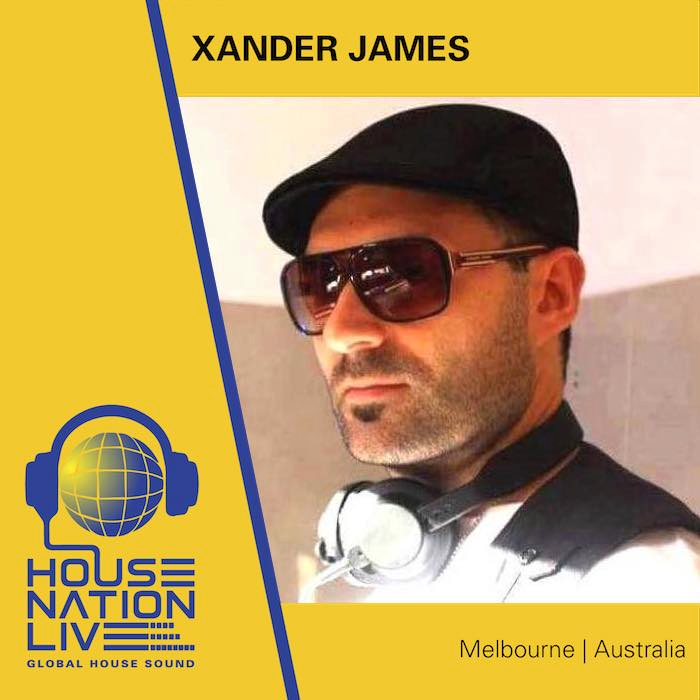 Australian born Xander James is a music connoisseur, delivering a unique dance music experience. He's a House DJ and electronic music producer, with a career spanning 20 years, and has numerous original tracks and remixes under his belt.

His productions have been released on music labels across the globe, including Dualism Records, Deep Soul Space, Bizar recordings, Generation Music, and Kingdom Digital. His style is a unique blend of Tech House, combining House & Techno beats with Deep House grooves, Balearic melodies, World sounds, then infused with Afro-Latin percussions.

Xander has collaborated and performed with well-respected international artists including: Ron Carroll, Matt Caseli, Julie McKnight, Andy Caldwell, Marshall Jefferson, Osunlade, Evan Landes (The Groove Junkies), Robert Owens, Chris Samba, Andy Ward (Soul Central, Graham Lord (Audiowhores / Malachi), Neil Pierce (Fanatix), Sean Doyle (Soul Heaven / Hed Kandi), Miss Farina, Aris Kokou, Dimitris Michas, Kim Jay, Sterling Void, Jerry C. King, Malik Boudari and many more.
He's held residencies at a plethora of reputable venues in his hometown of Melbourne, Australia and traveled the world, while showcasing the sound of Ibiza and recreating the European summer experience.

A visionary, entrepreneur and humanist, he also founded "House for Love", a not-for-profit initiative and fundraising movement. By collaborating with leaders from various communities and industries, Xander is committed to creating a series of music-focused events to empower those in need to transform their lives, through social connections, music and the values of humanity.

In 2017, Xander co-founded "House Nation Live", an online radio station and network of DJs across Australia and abroad – including the UK, USA, South Africa and Europe – delivering House music shows in the form of live video streaming. Not interested in mainstream fads and trends, this venture showcases real talent and creates a sense of community among House DJs, producers, artists and House music lovers in the electronic music industry.

Driven by his passion for music and people, Xander loves connecting with like-minded individuals, nurturing new talent and serving up quality dance tunes.

GO BANG! Magazine: When and how did you get interested in music?

Xander James: Music has been a major part of my life since I can remember. From playing with baby-sized musical instruments as a 2-year-old, singing along at family gatherings, and later as a lead in my primary (elementary) school choir, reciting poetry and being part of my local dance troupe, studying church (Byzantine) music and getting involved with my junior high school choir, taking piano lessons and briefly studying classical music, to recording mixtapes on cassette from the radio for myself and close friend. I was always fascinated by sound, rhythm and dance.

GO BANG! Magazine: When did you develop an interest in House music?

Xander James: My interest in House music came about in the early '90. While I was growing up in Greece, during my pre-teens, I discovered a radio station that was playing mainly "English music" – House, Eurodance and other Electronic Music sub-genres… I became fixated, almost instantaneously.

GO BANG! Magazine: Please describe the House music scene in Australia.

Xander James: The House music scene in Australia is constantly evolving… Similar to the US, there are strong communities of Househeads who primarily celebrate in more intimate gatherings and there is a larger demographic who follows the more crossover/mainstream sound, all the way to EDM. Having said that, the last few years we are seeing a resurgence of weekly Underground parties and large scale one-off events that are focused more on selective quality sounds, somewhat purist in nature; from House to Techno, mainly Tech House, Afro, Deep, Soulful and Classic House, and less mainstream sounds, which is rather refreshing.

GO BANG! Magazine: As a producer/remixer, how would you describe the Xander sound?

Xander James: Both as a producer/remixer and as a DJ, I strive to nourish our feelings and emotions with melody, groove and positive energy, creating spiritual moments and delivering a unique dance music experience. My sound is a unique blend of Tech House – Balearic Tech House as I call it – combining House and Techno beats with Deep House grooves, Balearic melodies and world sounds, usually infused with Afro-Latin percussion.

GO BANG! Magazine: You've collaborated and performed with numerous pioneers of House music that are from my hometown of Chicago. How would you describe the experiences you had working with those legends?

Xander James: Indeed… Having worked, collaborated and performed together with many of the Chicago House music pioneers has enriched my career and life with nothing but pleasantly memorable experiences and positive moments… The connections have always been quite natural and I think this is primarily due to our mutual love and passion for House music, together with the fact I was never big on idolizing and being a pestering fanboy, but instead simply treating everyone with respect, and both as colleagues and friends.

GO BANG! Magazine: "House Nation Live" is an online radio station. Tell our readers why you decided to start the station and what its mission is.

Xander James: House Nation Live (HNL) is an online radio station to a certain extent, but most of all we are a global House DJ collective delivering live video-streamed shows to House music lovers around the world. As we move to our next phase, HNL is soon to become a full online video streaming platform for DJs by DJs, connecting, embracing and serving House music communities all around the world!

For quite a few years now, I have been on a mission to do my bit in keeping House music and its essence alive, while moving forward into the future. Since co-founding House Nation Live in 2017, the brand is focused on diversity and unity, and we are committed to showcasing DJs from multicultural backgrounds, to represent a global House sound. HNL is a multifaceted project with a broad mission and vision that ranges from what you see and experience now, and the platform I have mentioned earlier, to music events, label releases and an industry regulatory board, workshops and mentoring sessions for young aspiring artists and DJs. It also includes fundraising events, creative projects, schools and scholarships for impoverished, underprivileged and indigenous communities, and those fellow human beings who are experiencing homelessness, and are affected by disabilities and addictions.

GO BANG! Magazine: Please describe what "Balearic – The Sounds of Ibiza" is and how often you have events.

Xander James: Balearic – The Sound of Ibiza is best described as sunny vibes, organic grooves and world sounds; local (and in future global) gatherings with quality electronic music, inspired by the mecca that is Ibiza… Balearic has been on a hiatus for a couple of years now, mainly because I shifted my priorities to House Nation Live and also due to being unable to source and secure the right venue to consistently host our events.

The concept saw a series of 10 hour parties, running primarily on a monthly basis, and the format was starting early in the evening accompanied by downtempo sounds, picking up the tempo after sunset with a proper club vibe, and finishing up late at night (early the next morning), with the idea to recreate the European summer experience in the Mediterranean Sea.
I am obsessively meticulous about the event production, as it reflects a full experience and fusion of the right music and sound, ambience and decor, open-air surroundings and sunset views, food and culture, and very importantly DJs that are very familiar with the White Isle. They understand the concept and have lived the summer experience we are recreating, playing sets that are no less than 2 hours long. I am very confident that Balearic will return bigger and better this coming Australian spring and summer season.

GO BANG! Magazine: Are there any artists that you would love to work with or events that you would love to participate in that's here in the States?

Xander James: Exploring collaborative possibilities and working with other artists – new and old, aspiring and established – is something that I'm always open to, and that I thoroughly enjoy!

There are many producers, DJs, singers/vocalists/MCs, songwriters and spoken word artists/poets that I respect and haven't worked with yet in the States… Some of the more established names that I would love to collaborate with – from House music to Neo Soul and everything in between – include Larry 'Mr. Fingers' Heard, Paul Johnson, Mike Dunn, Glenn Underground, Steve 'Silk' Hurley & Shannon 'DJ Skip' Syas, Joe Smooth, Marshall Jefferson, Tommy Thumbs, Harry Dennis, Ron Trent, DJ Pierre, Lil' Louis, Terry Hunter, Alan King, Ralphi Rosario, Jesse Saunders, Todd Terry, Dennis Ferrer, Tier Ra Nichi, Little Louie Vega & Kenny 'Dope' Gonzalez, Armand Van Helden, Brothers' Vibe, Doc Martin, Felix Da HouseCat, Erick Morillo, Todd Gardner, Andy Caldwell, DJ Spen, Karizma, Derrick May, Carl Craig, Juan Atkins, Robert Hood, Kenny Larkin, Jeff Mills, Kevin Saunderson, Terrence Parker, Moodymann, DJ Rolando, Eddie Fowlkes, La India, Marc Evans, Ursula Rucker, Josh Milan, Barbara Tucker, Peven Everett, Jill Scott, Erykah Badu, Common, D'Angelo, Maxwell, Lauryn Hill, India Arie, Musiq Soulchild, Angie Stone, Goapele, Alicia Keys, Pharrell Williams, Q-Tip, Ryan Leslie, Timbaland, Sean 'Diddy' Combs, Dr. Dre, Scott Storch and the list goes on…

Similarly, there are a number of events that I would be interested to be involved with, participate in and perform at, like the Chosen Few Picnic & House Music Festival in Chicago, the Miami WMC, Miami Music Week & Ultra Music Festival in Miami, EDC in Las Vegas, Coachella Valley Music & Arts Festival in California, Electric Zoo Festival in New York, Burning Man in Nevada, Elements Music & Arts Festival in Pennsylvania, Movement Electronic in Detroit and more.

GO BANG! Magazine: What is next on the agenda for Xander James that our readers should be on the lookout for?

Xander James: I'm very much focused on the continuous evolution of House Nation Live and my regular live streamed video shows there. There's also a number of music productions and releases (originals and remixes) that are scheduled for the rest of the year, guest mixes and DJ sets on other online networks and radio stations. Various creative projects and collaborations with both local and international artists and crews, music and community events courtesy of Balearic and a not-for-profit initiative and fundraising movement I founded in 2015 called House For Love.

House For Love brings together leaders from various communities and industries, and empowers those in need to transform their lives through social connectedness, House music and the values of humanity. Then there's a couple of new business ventures, plenty of mentoring sessions and possible workshops, and a self-empowerment e-book that will serve as a practical (quick-read) guide to fulfilment, for entrepreneurs, aspiring business owners, artists and creatives, and anyone who is striving to play a big game in life by pursuing their passions, following their dreams and unlocking their full potential. So stay tuned!

GO BANG! Magazine: The COVID-19 pandemic has caught the world off guard. How are you dealing with it?

Xander James: Indeed, and it is very evident that many fellow humans are not dealing too well with everything that is going on at the moment, and over the course of the last three months. It is perfectly understandable too, for I strongly believe that the overall situation has not been handled correctly; too many knee-jerk reactions from "leaders", a lot of misinformation and unnecessary fear-mongering from the media, leading to panic and hysteria, and dare I say extreme measures of isolation.

Please excuse me for getting too political, but as I frequently say in general discussions across all topics, it all comes down to leadership, and in my opinion, on a global scale, the vast majority of the "leaders of the world" who are in the top decision-making positions of government and health advisory roles have failed us, yet again. Even though I religiously do not follow the mainstream news or watch much TV for that matter – for as Denzel Washington once famously said, "If you don't read the newspaper (and watch the news) you're uninformed; if you do read it (and watch them) you're misinformed…" – from the little that I have been observing, the few select sources that I have been following, and my very own research, it is clear to me that logic has gone out the window.

I'm an optimist. (lol) On a personal level, I have been fortunate enough to not be affected by the situation. Most of all, I haven't been phased by the self-isolation measures as I usually invest a lot of my time towards being creative at home, making music, doing personal research on matters of interest, reading books, journaling, mentoring, taking nature walks and working on passion projects – all of which can easily be done remotely and with the use of technology and independently. So, in actuality, I have been busier, more productive and more focused than ever.

GO BANG! Magazine: On May 25, 2020, George Floyd, a 46-year-old black man, was killed in Minneapolis, Minnesota, during an arrest for allegedly using a counterfeit bill. Derek Chauvin, a white police officer, knelt on Floyd's neck for almost nine minutes while Floyd was handcuffed and lying face down, begging for his life and repeatedly saying "I can't breathe." This incident has caused civil unrest and massive protests across the world. How do you feel about this unfortunate situation and call for police reform due to the horrible treatment of minorities by the police?

Xander James: Honestly, if I had to say this situation was unfortunate, I would be too polite and too politically correct, and I can't be that, for I believe in fairness, which is even above equality. I have been quite vocal about this crime – and it's not the first time I have publicly weighed in on such matters – sharing my thoughts in a way that I can offer some much-needed perspective and awareness, stimulate rational thinking and set the record straight, because this is not the first time something like this or similar to this has happened, especially against a member of the African American community, resulting in the death of a human being who should still be alive – no matter who they were or what their past said. Not even declared terrorists and individuals who cause terror – through murder and mass killings – are treated this way, which is mind-boggling!

This incident should not have happened, period! The fact that it happened shows that despite the evolution of mankind, we have so much more work to do. I am not a black man, nor can I pretend to understand what it is to be a black man – especially in the States – but I have experienced prejudice through much of my lifetime, as I was uprooted twice, and I have been treated as a foreigner, an immigrant and a second class citizen at times in both my country of origin (Greece) and my country of birth (Australia). So to an extent, these matters hit close to home, and make me feel so appalled that they can even be justified, by any means and to any extent. Again, all this coming from an optimist, but most of all someone who believes in humanity above all.

Police reform is the least we can do about this situation, as it is evidently more of a cultural issue. It's a deep-rooted cultural issue, not only in governmental departments but in society as a whole. Society has progressed to an extent, but there is still plenty of work to be done. This is a civil and human rights issue. I strongly believe – without segregating on the opposite direction – that the "white community" and "white leaders" need to step up. At least, this is what I intend to do, in whatever capacity I can, so we can cause change and work together with the black community, and all minorities, in order to put an end to the BS and move forward together.
First of all, there is only one race on this planet, the Human race, and the fact some people still don't get it shows how ignorant some are, who have been taught to be ignorant and then grow up and teach others to be ignorant as well, believing that one skin color or community is better or worse than the other – truly crazy stuff! Perhaps if DNA tests were an everyday thing, people would see how they come from so many different cultural backgrounds and ethnicities, but still one race, the human race…all of which began in Africa – Mother Africa.

Racism should not exist, racial profiling and police brutality should not exist, and to be blunt, systematic slavery should not exist either, so let's not pretend anymore that everything is running smoothly or working clockwise, for it ain't! Let's not be "colour blind", for that's not a solution either. Now, I'm not calling for an uprising here, for this will be foolish – I doubt it will serve any real purpose or bring long-term results, apart from some short-term band-aid solutions – I'm calling for a revolution of the mind, which can really bring the end of – any form of – oppression. Awareness and conscious initiative is power!

As I said on my first post about this tragic incident and heinous crime, and the whole situation –you can read my full public post here: https://www.facebook.com/photo.php?fbid=10158726209428296 – "May George Floyd and the many other African Americans who had their lives taken away over the years rest in peace and may their families receive the justice they deserve. The rest of us should reflect on these harsh realities of life, be grateful for the extra privileges we have and not be ignorant or silent. We have a moral responsibility to educate, guide and empower our youth and future generations in order to change the current narrative. More fairness, love and humanity!"

Some really important points were also brought up by Killer Mike during his interview in Atlanta when he addressed the community about this incident, and he spoke about the need for strategic planning and action, not retaliation and rioting, but an organized approach and proper community mobilization, the "black community" in particular. Also, in a video about this civil and human rights matter, and the prejudice against the African American community, Byron F. Wilson (Founder & Headmaster of The Wilson Academy) explained why this is happening and what needs to be done in order to reverse this. He spoke about the fact that ever since the Tulsa riots and the dismantling of the Black Wall Street, there haven't been fluent eco-systems within black communities that can also make up a bigger nationwide sub-economy of African American owned and operated businesses, schools and services that hold weight, power and influence, like the Jewish community who owns much of Hollywood, the media and many influential businesses in the States. Or even the Italian, Greek and Asian communities for example who also own many restaurants and successful businesses. As such, the black community lacks bartering power in countering legislations that inflict prejudice and oppression against their people, and having the ability to take a stand against inappropriate action by those in uniform and influence important decision making by government officials. Mostly of course because they have been unfairly disadvantaged for years and have not been given equal opportunities.

I very much agree with this, and I believe that there is a need for a more strategic approach by African Americans to invest within their own communities and a unified approach from white Americans to stop any unfair advantages from this point on, supporting the notion that as Americans – in the States – and as humans in all parts of the world we need to move forward together. Each one, teach one, for success breeds success!"

For me it's always about perspective over perception and just over a week after the incident when protests were well and truly underway – not only in the States, but all around the world –and we also started seeing riots and looting taking place, I made another public post because some were starting to fall into the comparison trap. I will leave you with a couple of extracts and some more perspective – you can read my full second public post here:
https://www.facebook.com/photo.php?fbid=10158760649583296.

"Looters and vandals are not activists or protesters. However, every time there is an African American protest against oppression in the US – or any 'people of colour' protesting around the world – where riots break loose, and we see ignorant and irresponsible youth and adults (of any background) looting and vandalising, and gang members joining in to wreak havoc – along with paid agitators who come to cause trouble and "fuel the fire" – we easily identify or we are told to identify everyone in the crowd as part of the same community. Is it right for someone to loot and vandalise? No! Are these individuals there to support and promote the cause of the community who is in protest? No! On the flip side, are innocent people dying because they are being racially profiled? Yes. Are those in uniform getting away with it? Yes. Which one of these is the biggest issue, and which one is a byproduct of the other? Looting and vandalising or police brutality? I think we all know the answer to that. Now, are all police officers bad and prejudice? No. And as such, they need to be singled out and dealt with accordingly – but as history shows, many if not most of the ones who are bad and prejudice, committing crimes against the very citizens they meant to protect and to serve, tend to get away with it because they wear a uniform and badge. So, in the same manner, we ought to single out looters and vandals, and not stereotype them as part of a community because of the colour of their skin, generalising and making ludicrous statements…"
"Unfortunately, stereotyping, prejudice and discrimination occurs everywhere, from 'people of colour' to immigrants all around the world – African Americans, Africans during the Apartheid and to this day through immigration, Aboriginal Australians, Native Americans and all native tribes worldwide, Latinos and Hispanics, 'wogs', Asians, Indians, Pakis and Arabs, the list goes on – which is f*cking crazy…

We have been conditioned to hate, which is ridiculous, and now – more than ever – is the time for us to learn and teach how to love… There's only one race, the human race that we are all part of, and just because we look and sound different from one another or we follow different traditions and have different religious beliefs, this does not mean that one is better than or superior to the other, or that we should turn against each other… We all bleed the same… Let's not continue to be pawns on a chessboard…"

When the mainstream media promote a particular topic or event, we always ought to question its validity, and in many cases think almost the opposite of what they're promoting – that their focal point is not necessarily the actual problem (e.g. looting and rioting) and that the finer details about the topic or event they are constantly bombarding us with, are not accurate or as important as they are perceived to be… They always have an agenda in place – and aside from trying to divert attention and skew people's perceptions – their aim, in its purest form, is to increase viewership numbers in order to sell advertising…

We need to be united, by empathizing with and empowering one another, be less reactive and simply spread love! Kindness over hatred peeps – perspective over perception." 🙏❤️✊

"My vision is aspire to inspire while connecting people through music and self-expression… My mission in life is to empower others to explore possibilities and realize their full potential." – XJ 😎✌️ 1 luv, peace & music-beats d(•_•)b

You can follow Xander on ALL social media formats.

https://www.XanderJamesDJ.com — XJ Official Website
https://www.XanderJamesDJ.com/#contact — XJ Email for Bookings & Enquiries
https://www.facebook.com/XanderJamesDJ — XJ Facebook Artist Page
https://twitter.com/XanderJamesDJ — XJ Twitter Account
https://www.instagram.com/XanderJamesDJ — XJ Instagram Account
https://www.youtube.com/XanderJamesDJ — XJ YouTube Channel
https://soundcloud.com/XanderJamesDJ — XJ SoundCloud Tracks
https://www.mixcloud.com/XanderJamesDJ — XJ Mixcloud Mixes
https://www.beatport.com/artist/Xander-James/312158 — XJ Profile & Releases on Beatport
https://www.traxsource.com/artist/115540/Xander-James — XJ Profile & Releases on Traxsource
https://www.residentadvisor.net/dj/XanderJames — XJ Profile on Resident Advisor
https://thedjlist.com/djs/XanderJames — XJ Profile on The DJ List
https://www.facebook.com/MrXanderJames — Personal Facebook Profile
https://www.facebook.com/HouseNationLive — House Nation Live Page
https://www.facebook.com/BalearicParties — Balearic (Events) Page
https://www.facebook.com/HFLmovement — House For Love Page
http://snschicago.com/Xander-James — Music is the highest form of self-expression! – Xander James (an interview with S&S Records, Chicago)
https://www.facebook.com/watch/?v=314465665996092 — Who is Xander James? A video interview with Kym Wilson




Pierre A. Evans is a freelance writer of Entertainment, Music, Art, Culture, Fashion and Current Events, and previously for SoulTrain.com, NDigo.com, ChicagoDefender.com, EmpireRadioMagazine.com, and UrbanMuseMag.com, an author, singer/songwriter, actor, model, poet, dancer, and DJ. He is also the owner of Pinnacle Entertainment Productions. Follow him on Facebook, Twitter, and on Instagram